North Brunswick honors Army veteran at Street Sign Ceremony
October 3, 2023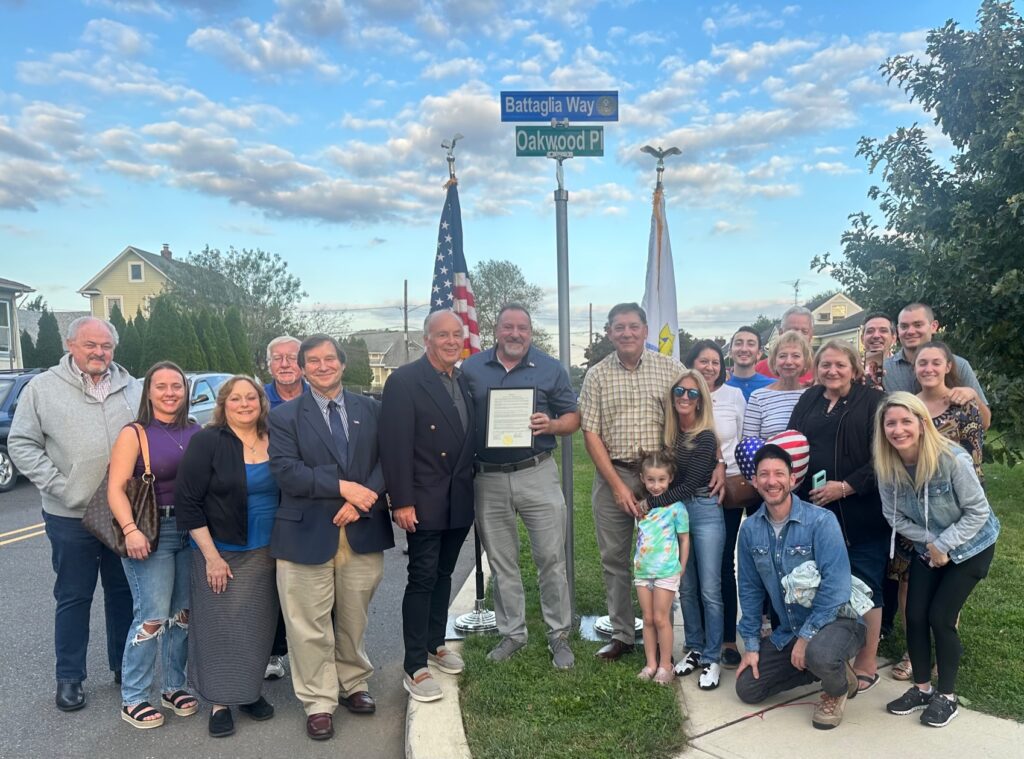 North Brunswick honored United States Army veteran Frederick F. Battaglia by dedicating Oakwood Place and Glenridge Avenue as Battaglia Way on Monday, October 2.
Frederick was born in Glenwood, New Jersey in 1920 to Italian immigrants, and later moved to the Bronx, New York. Fred was the youngest of six children, four sisters and one brother.
Frederick enlisted in the US Army during World War II in 1942, along with his cousins. Fred attended service training at the school of Mechanic Aviation. Fred received medals for Good Conduct, the World War II Victory Medal and the American Theatre. During his service, Fred was a Maintenance and Crew chief on P-51, P-38, P-39, P- 63, P- 40 and AT. – 6 and AT. – 61. After being honorably discharged from the Army, Fred began working for the Boy Scouts of America which was located in New York City.
The Boy Scouts of America relocated to North Brunswick, New Jersey in 1956, Fred followed and relocated his family. Fred lived in North Brunswick until his passing in 1995 where he and his wife Mary raised their seven children. Fred worked for the Boy Scouts as a data processing manager until 1978 when the Boy Scouts again relocated to Fort Worth, Texas. After the Boy Scouts moved, Fidelity Bank purchased the property and moved their headquarters to this location. Fred was hired by Fidelity and worked there as a computer operator until he retired in 1990.
Fred's hobbies included wood working and making clocks. He was a member of the Knights of Columbus and the Senior Center. Fred was kind and caring, a religious family man who was always the first to help someone in need.
Fred was extremely proud of his seven children, Mary Boyer,(daughter) Frederick Battaglia, (son) Laura Hansen, (daughter) deceased, Palma Rask, (daughter) Carolyn Battaglia, (daughter) Guy Battaglia, and Joseph Battaglia, (son) who all went on to have successful and productive lives. Fred was blessed to see twelve of his thirteen grandchildren born and sadly he would not see any of the nine great grandchildren born.
We thank and honor Frederick F. Battaglia for his service to our country and community!
For more information on the North Brunswick Veteran Street Sign Program, please visit https://northbrunswicknj.gov/programs_and_service/veteran-street-sign-program-information/.