Overview
The Governor's Council on Alcoholism and Drug Abuse (GCADA) provides a grant to Middlesex County in which North Brunswick is a recipient of funding to provide the North Brunswick Youth Municipal Alliance Committee.
The Youth Municipal Alliance Committee provides an opportunity for students in grades 6th thru 12th experiences that build strong life skills, education on the risk and dangers of drugs and have their voices heard as they engage in Township events and programs. Youth experience many leadership roles and they network throughout the entire year, making a positive difference for the residents of the North Brunswick Community.
Substance Misuse Awareness Contest
Create art to raise awareness on Drug Abuse!
Grades 3 – 8 can participate and winners will receive prizes!
Submit art by Saturday, April 1 to nbya.daa@gmail.com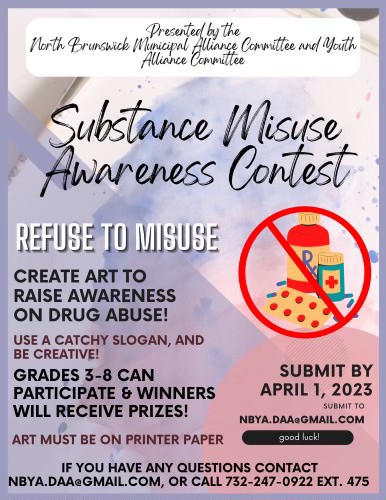 Members
Aislinn Bogert
Aliza Lopez
Anirudh Ramakrishnan
Anna McEneaney
Ansvika Kumar
Aryan Anand
Austin Chou
Denisse Cruz
Michelle Hernandez
Jaida Peretta
Jaida Soto
Jessica Rajaseaar
Jovanna Torres
Kailash Aravindhan
Kavinraj Jayaraj
Lisbelle Rosario
Mia Rosario
Naiya Bogert
Neesh Parikh
Pravin Kotilingam
Rohan Bhatia
Saloni Agshiker
Samarth Sharma
Sanjana Pundru
Schayta Sharma
Sheev Shah
Steven George
Tejas Krishnan
Vinuta Ramakrishnan
Amruta Jayaganesh
Anay Choudhari
Darcy Fuhschein
Emma Farrell
Jeyona Jayaraj
Luv Patel
Mehek Singh
Naina Choudhari
Rhea Palliath
Shrijee Shah
Yash Choudhari
Lou Ann Benson – Township Liaison
Heather Tedesco – Facilitator
NB Youth Municipal Alliance PSA: The DV Dilemma