The Police Department is conducting normal operations and residents may reach out by calling the non-emergency number at (732) 545-3200 for service or 911 for a true emergency.
Any member of the public that wishes to FILE a police report in person may come to the Police Department located at 710 Hermann Road.
Any member of the public that wishes to PICK UP a police report may come in person to the Police Department Records Bureau located at 1460 Livingston Ave Building 400 Second Floor. Also motor vehicle accident reports are available online at https://www.crashdocs.org.
 To reach the Records Bureau by phone please call (732)-247-0922, Ext 415.
 The public can still use the Craigslist Safe Zone, located in the lobby of police headquarters at 710 Hermann Road for transactions. It can be used 24 hours a day, 7 days a week, with no cost to anyone.
***NORTH BRUNSWICK POLICE DEPARTMENT RECRUITMENT PLAN***
Please click on the link below for information on the Police Department's Recruitment Plan.
North Brunswick Police Department Recruitment Plan
The mission of the North Brunswick Township Police Department is to provide effective policing services to all residents of our community.
Our goal is to maintain a safe and secure environment that will facilitate the quality of life our citizens have grown to expect by insuring that federal, state, and local laws are enforced in a fair, consistent, and swift manner. By doing so in a fashion sensitive to the multitude of cultures that make up the human fabric of our community, we will continually work to achieve and maintain the respect and cooperation of the fine citizens of our community.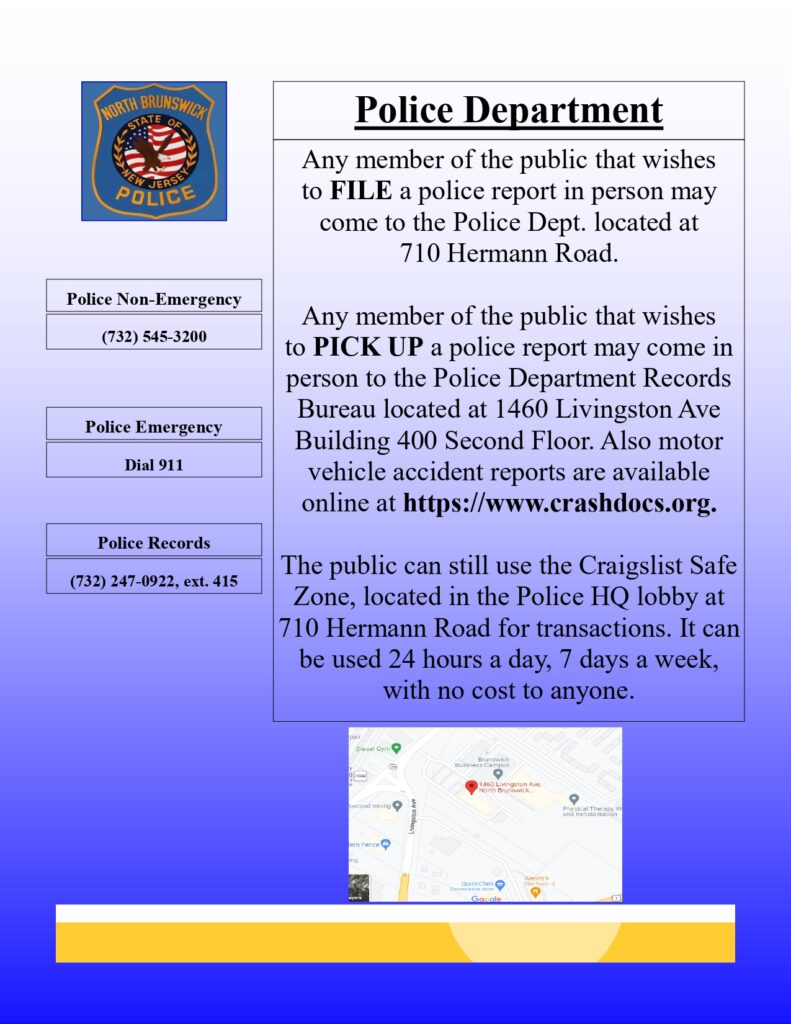 Department History
The North Brunswick Police were originally a part-time department, aided by the New Jersey State Police. They patrolled our town on regular routes and were dispatched "dispatched" by the Chief's porch light. An illuminated lamp meant there was a call for service and officers on patrol should stop for instructions.
Our growing township eventually needed the services of a full-time police department. In 1964, the North Brunswick Township Police Department was fully established.
The North Brunswick Police Department adopted the Community Operational Policing (C.O.P.) strategy in 1994 to better work with our community. C.O.P. is a partnership between police officers and citizens to work together and identify, prioritize, solve issues and improve quality of life. Our efforts are directed to reducing crime and fear of crime, increasing citizen satisfaction with our department, and working with numerous local agencies to solve problems that impact our residents and businesses. In short, it is the prevention of crime through a partnership with our neighbors.
From these humble roots, we have grown to over 85 sworn officers, 10 dispatchers, and 10 civilian employees. Together we form one of the best trained and dedicated teams of law enforcement professionals, motivated by the privilege of serving our community.