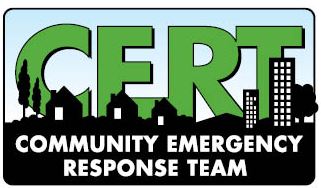 The CERT concept was developed by the City of Los Angeles Fire Department in 1985 based on the recognition that citizens are very likely on their own during the early stages of a disaster.
CERT members are trained to act as a support system for the police department, fire department, first aid and rescue squad, and Office of Emergency Management (OEM) in the event of a crisis.
Members are responsible for doing the basics in the event of an emergency. They must gather information, assess and communicate the damage, consider the probabilities of something happening, assess one's own situation, establish priorities such as if any lives are at risk, make decisions, develop a plan of action, take action and then evaluate progress.
Volunteers age 18 and older are required to complete 20 hours of general training in disaster preparedness, disaster medical operations, light search and rescue operations, trauma psychology and terrorism. They can then choose to specialize in other areas such as cardiopulmonary resuscitation (CPR), radio communication, shelter setup, and fire training.
Volunteers are always welcome to join. For more information, please contact the Office of Emergency Management at 732-247- 0922, ext. 388.