Department of Community Development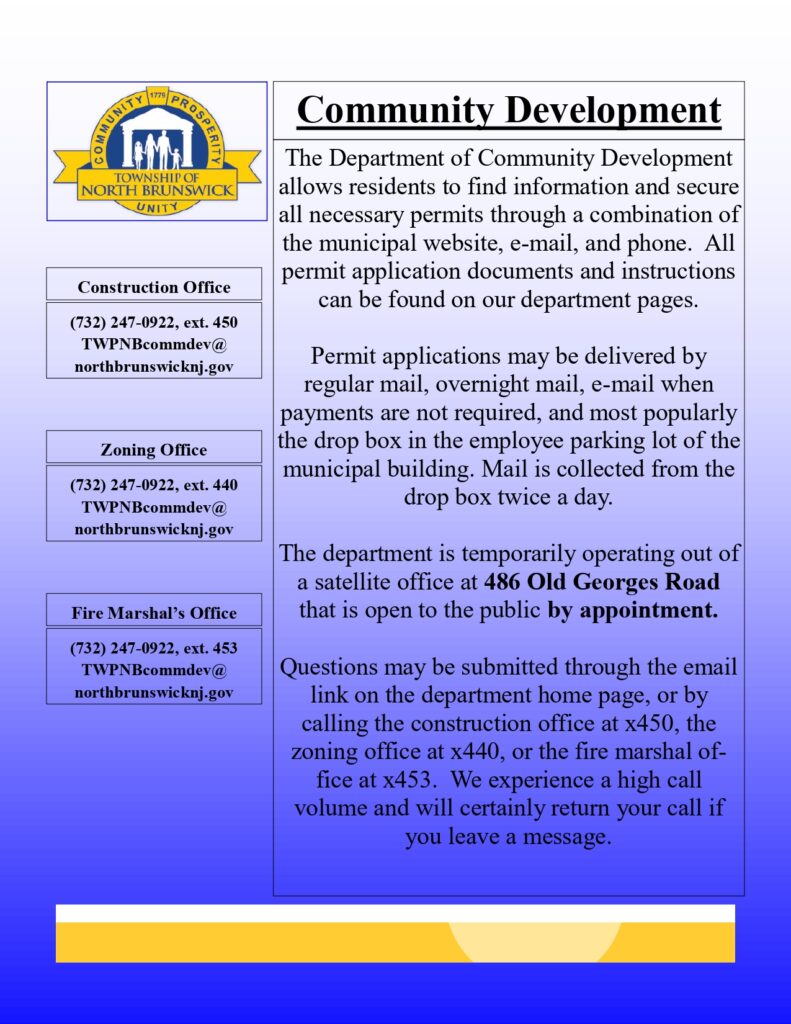 The Department of Community Development allows residents to find information and secure all necessary permits through a combination of the municipal website, e-mail, and phone. All permit application documents and instructions can be found on our department pages.
Permit applications may be delivered by regular mail, overnight mail, e-mail when payments are not required, and most popularly the drop box in the employee parking lot of the municipal building. Mail is collected from the drop box twice a day.
The department is temporarily operating out of a satellite office at 486 Old Georges Road that is open to the public by appointment.
Questions may be submitted through the email link on the department home page, or by calling the construction office at x450, the zoning office at x440, or the fire marshal office at x453. We experience a high call volume and will certainly return your call if you leave a message.
Parks, Recreation & Community Services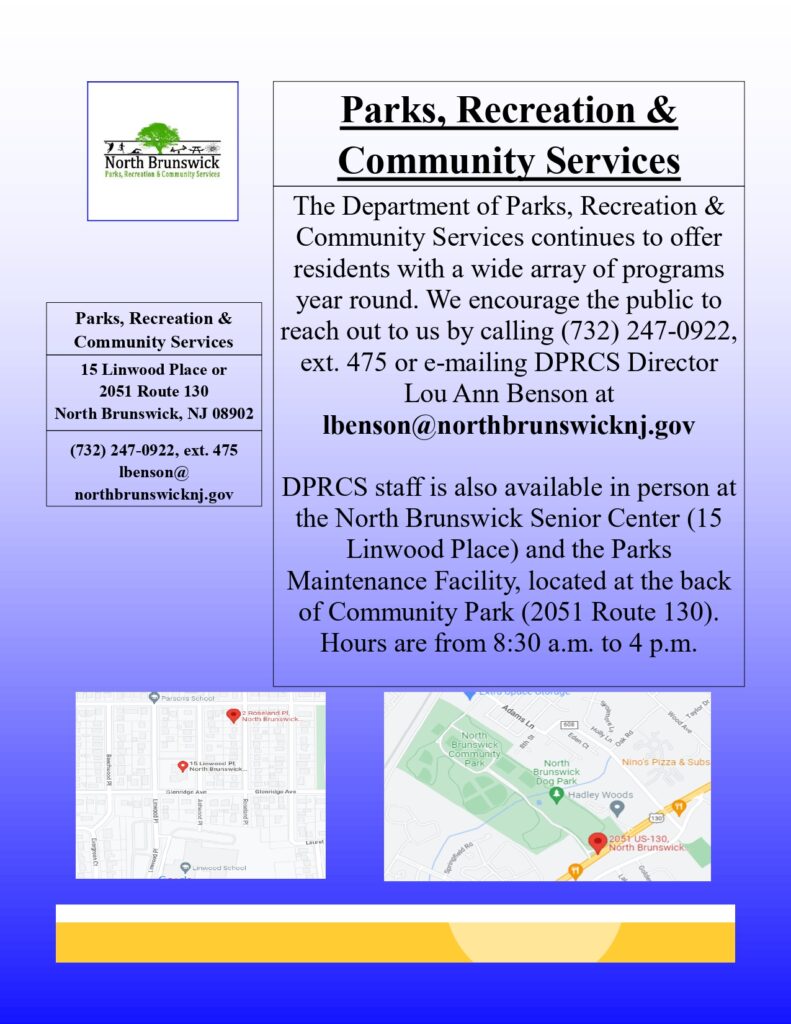 The Department of Parks, Recreation & Community Services continues to offer residents with a wide array of programs year round. We encourage the public to reach out to us by calling (732) 247-0922, ext. 475 or e-mailing DPRCS Director Lou Ann Benson at lbenson@northbrunswicknj.gov.
DPRCS staff is also available in person at the North Brunswick Senior Center (15 Linwood Place) and the Parks Maintenance Facility, located at the back of Community Park (2051 Route 130). Hours are from 8:30 a.m. to 4 p.m.
North Brunswick Senior Center
The Senior Center is open from 8:30 a.m. to 4 p.m. The office may be reached by phone at (732) 418-2222.
There are a multitude of activities and programs for our Township seniors. Please check the website regularly as well as North Brunswick Channel 15 for updates.
Department of Public Works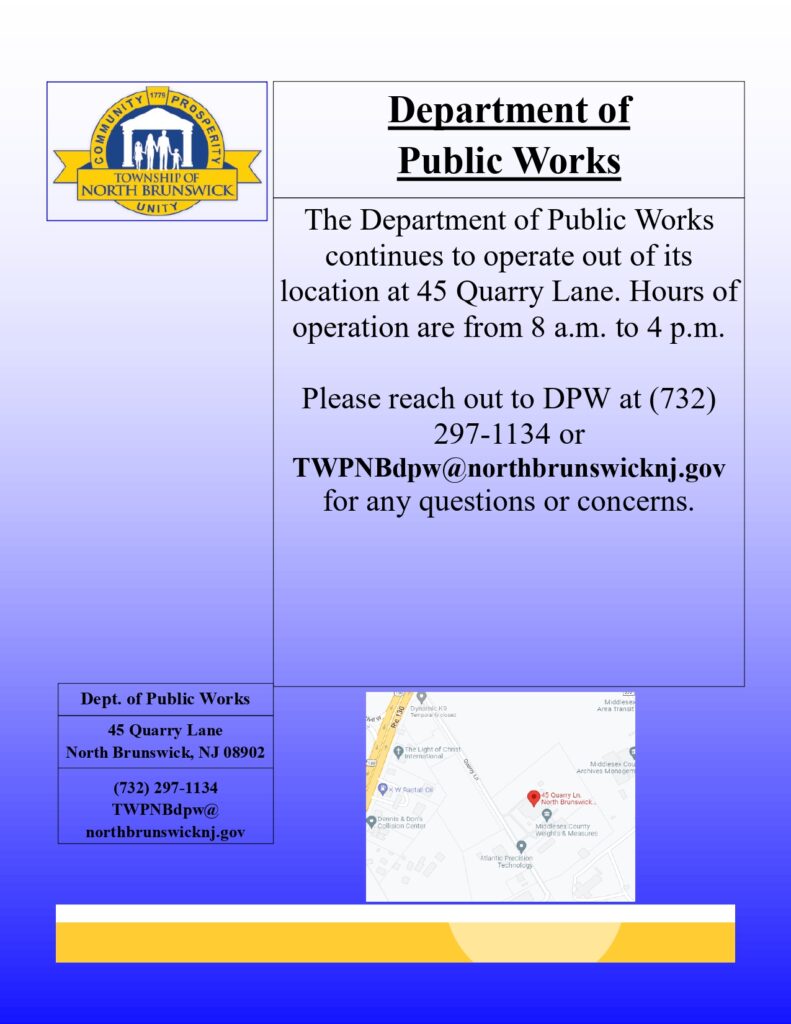 The Department of Public Works continues to operate out of its location at 45 Quarry Lane. Hours of operation are from 8 a.m. to 4 p.m.
Please reach out to DPW at (732) 297-1134 or twpnbdpw@northbrunswicknj.gov for any questions or concerns.
Finance, Tax and Water Services Offices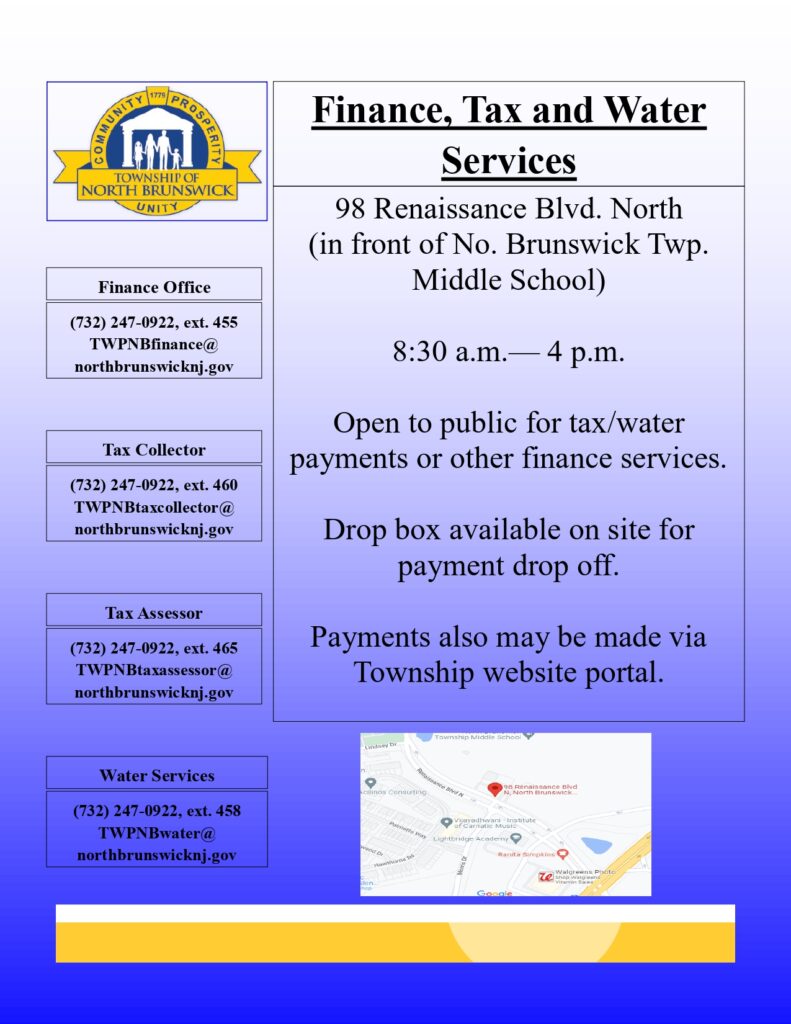 The Finance, Tax and Water Services offices have moved to their temporary location at 98 Renaissance Boulevard North (in front of the North Brunswick Middle School). Hours of operation are from 8:30 a.m. to 4 p.m.
The Office are open for in-person transactions. A drop box will be installed at this location in addition to the drop box at the Municipal Complex. Drop boxes are checked daily during business hours.
Tax and water/sewer payments may be made in-person, online via the Township's website or by one of the drop box locations (710 Hermann Road and 98 Renaissance Blvd).
The Finance Office may reached by phone at (732) 247-0922, extension 455, the Tax Collector's Office at extension 460 or Tax Assessor's Office at extension 465. For water/sewer billing inquiries and complaints, please dial extension 458.
Municipal Clerk's Office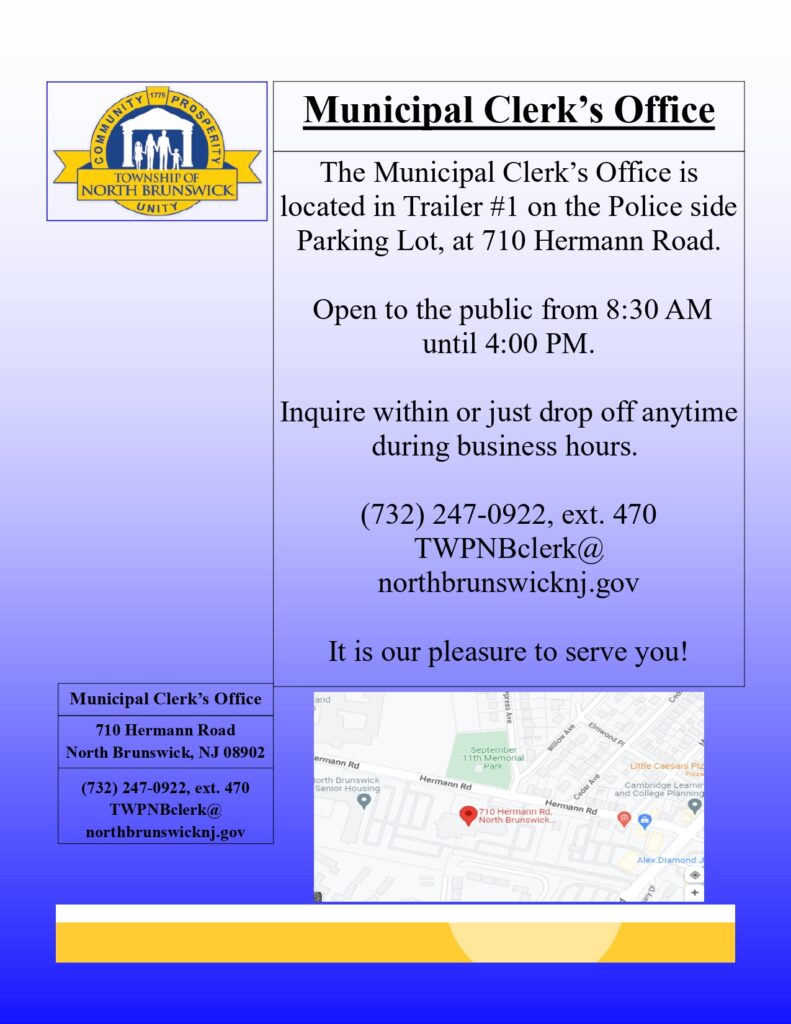 The Municipal Clerks Office is located in Trailer #1 on the Police side Parking Lot, at 710 Hermann Road. We are open to the public from 8:30 AM until 4:00 PM. You are welcome to inquire within or just drop off anytime during business hours.
We can be reached by phone at (732) 247-022, ext. 470 or by e-mail at TWPNBclerk@northbrunswicknj.gov.
It is our pleasure to serve you.
Municipal Court Office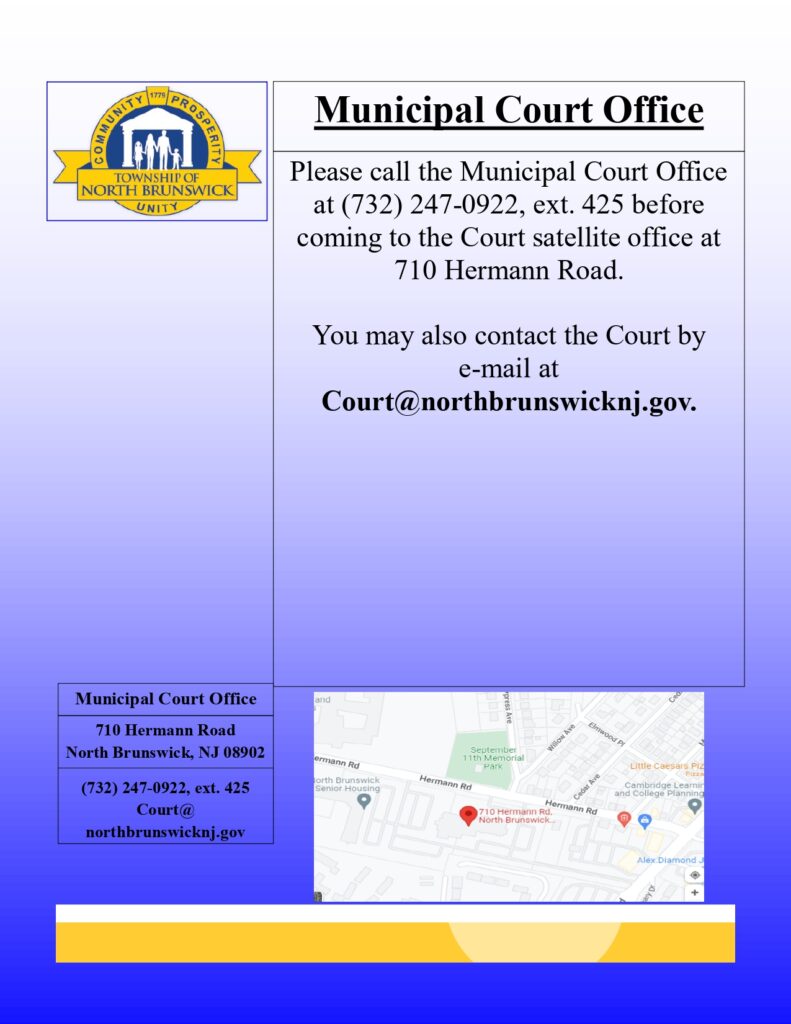 Please call the Municipal Court Office at (732) 247-0922, ext. 425 before coming to the Court satellite office at 710 Hermann Road.
You may also contact the Court by e-mail at Court@northbrunswicknj.gov.
Police Department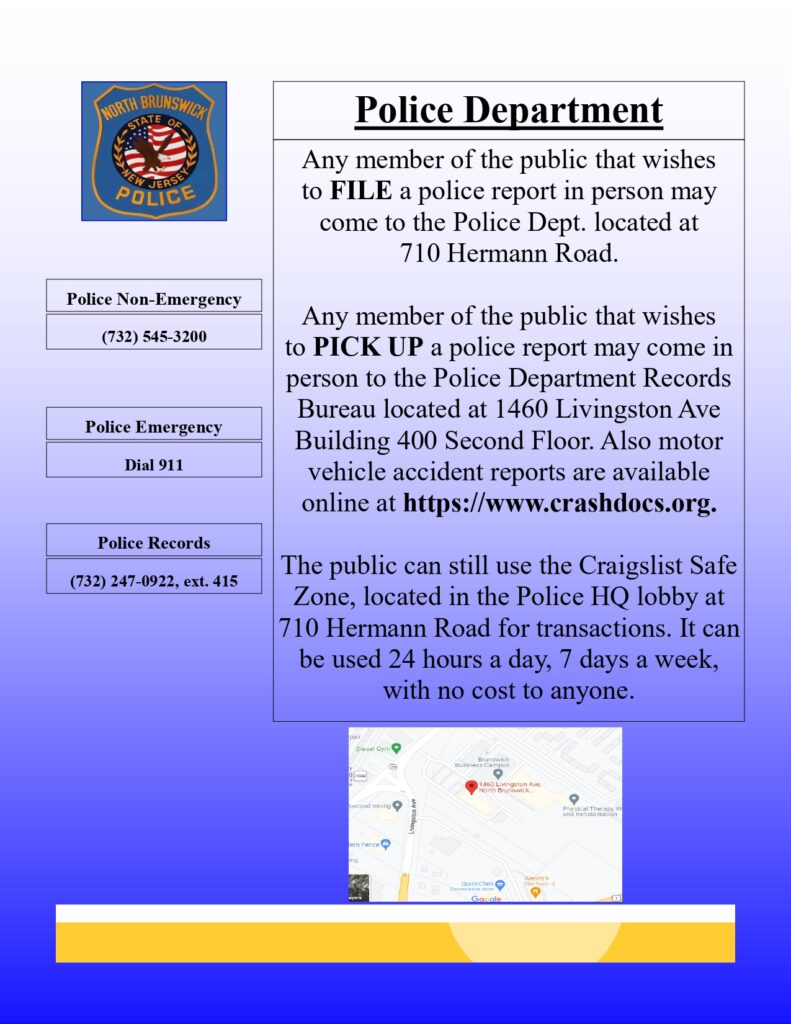 The Police Department is conducting normal operations and residents may reach out by calling the non-emergency number at (732) 545-3200 for service or 911 for a true emergency.
Any member of the public that wishes to FILE a police report in person may come to the Police Department located at 710 Hermann Road.
Any member of the public that wishes to PICK UP a police report may come in person to the Police Department Records Bureau located at 1460 Livingston Ave Building 400 Second Floor. Also motor vehicle accident reports are available online at https://www.crashdocs.org.
To reach the Records Bureau by phone please call (732)-247-0922, Ext 415.
The public can still use the Craigslist Safe Zone, located in the lobby of police headquarters at 710 Hermann Road for transactions. It can be used 24 hours a day, 7 days a week, with no cost to anyone.